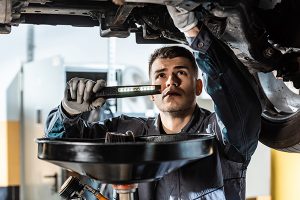 You know your car or truck has moving parts. You turn the steering wheel, press the brake pedal and see the wheels go 'round and 'round.
But there are many more moving parts you don't see every day – like the parts inside your engine. Pistons, valves and many other parts are constantly moving very rapidly inside your engine every time you start your car.
Many of those moving engine parts are made of metal. And they are rubbing against, or banging into, other metal parts. Metal hitting metal means both parts get worn down, but clean engine oil helps reduce that wear and tear inside your engine and helps those parts last longer.
Lubricated engine parts also make your engine operate more efficiently. It doesn't have to work as hard to produce the same power. And that saves gas, which means it saves you money.
But over time, the oil you put inside your engine breaks down and loses its ability to keep those moving parts lubricated. That can happen from use (the miles you drive) or just from age (how long that oil has been in your engine).
And if you think the outside of your engine gets pretty warm after it's been running, you ought to see what goes on inside. Controlled explosions (what happens to the gasoline when your engine is running) and friction (all those moving parts) both produce heat. All that heat just makes those moving parts break down more rapidly.
Clean engine oil helps cool down those moving parts by carrying some of the heat away and spreading it out throughout the engine to cool down. That helps your engine last longer and perform better.
Oil gets dirty, too. Every little microscopic speck produced by all those moving metal parts rubbing against each other gets picked up by the oil and recirculates into the rest of your engine. That builds up over time, so, after a while, the oil needs to be replaced. It just can't help the engine like it did when it was new.
Many modern vehicles have an engine warning light or other indicator to let you know when it's time to get your oil changed. But you also need to check occasionally to see if it's been a long enough time that you need to replace your engine oil.
How many miles or how many months means it's time to get your oil changed?
For many years, the recommendation was to change your vehicle's engine oil every 3,000 miles. Modern engine oils are engineered to last even longer, though, so today it's often fine to change your oil every 5,000-7,500 miles. And full synthetic oil (yes, the kind that costs more) can last much longer than that. Check your vehicle's owner manual to see what's recommended for your car or truck, and follow those guidelines.
Some folks don't drive as many miles, but that doesn't mean their engine oil lasts forever – it still ages and can eventually fail to protect the engine. Many manufacturers recommend changing your engine oil at least every 12 months, even if you haven't driven 5,000 miles since you last had it changed.
Oil changes are simply a part of owning a vehicle, but we've got some good news for you. We're having a sale on oil changes here at Elder Cedar Creek.
Oil Change Specials*
Conventional Oil Change:  $29.95 plus Tax
Synthetic Blend Oil Change:  $39.95 plus Tax
Full Synthetic Oil Change: $49.95 plus Tax 
—–
Diesel Ram 6.7 Liter Cummins
Conventional Oil:  $59.95 plus Tax
Full Synthetic Oil:  $89.95
*All specials include a standard oil change (including 6 quarts of oil, additional quarts must be purchased if vehicle requires more than 6 quarts). Offer valid through the end of March 2020.
When you need an oil change, stop by and see us at 309 N. Gun Barrel Lane, Gun Barrel City, TX 75156. Or give us a call at 903-713-8676 and we'll be happy to answer your oil change questions or help you figure out what kind of oil you'll need.