How do you know if you need new tires?
Sometimes it's obvious.
If there's a bulge on the side of your tire that looks like someone with a knot on their head, you need new tires.
If strands of something are sticking out of one or more of your tires, you need new tires.
If your tires are so worn that the inside is visible from the outside, you need new tires.
Most of the time, though, it's not about something so obvious – it's about tread wear.
Tires are one of those things that get used up as we drive around. Unless you're the one doing donuts in the high school parking lot, you probably don't notice that your tires are leaving little bits of themselves on the road when you drive around every day – but they do.
It's just normal tire wear, but it happens so gradually that it's not always obvious.
So, how do you know when that normal tire wear has gotten to the point that you need to buy new tires? One oldie-but-goodie way to test is by using a penny.
If you have more than about 2/32 of an inch of tread left, your tires are probably fine. (If you don't have one of those obvious problems above)
But how much is 2/32 of an inch?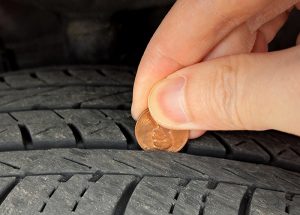 If you take a Lincoln head penny and turn President Lincoln upside down, there's about 2/32 of an inch between the outside edge of the penny and the top (bottom, the way you are looking at him) of Abe's head.
Put the penny into the groove of your tire's tread. If the tire covers up part of his head, you should have more than 2/32 of an inch of tread left, so your tire tread is still fine. If you can clearly see the top of his head, you probably need new tires.
Lucky for you, we have tires.
And they're on sale.
Buy 3 tires and get the 4th one for only $1 right now at Elder Cedar Creek. This offer is good through the end of March, 2020.
If you need new tires, or a whole new ride, we have what you need at Elder Cedar Creek.
Worn out tires are dangerous for you, and others on the road, when you are driving. You can't stop as quickly, don't turn corners as well, and are more likely to hydroplane on stormy weather if you don't have good tires. We want you safe, and we can help with that.
Come visit us today at 309 N. Gun Barrel Lane, Gun Barrel City, TX 75156. Or give us a call at 903-713-8676 and we'll take care of you.